Latest Commercial Real Estate Market News in Los Angeles
Get the latest Los Angeles commercial property listings and market updates as soon as they become available.
August, 2017: The Death of the Shopping Mall
Economic Overview:
JOBS & THE MARKET KEEP STRENGTHENING! The stock market has hit record highs, foreign companies are announcing big new plants in the US, and hiring has brought unemployment to a 16-year low. 209,000 jobs were added in July, bringing unemployment down to 4.3%, the lowest since 2001. All of this is good news for spending, which helps businesses, and thus landlords renting to those businesses; long may it continue! The only draw back is some businesses are being replaced with...
read more
---
April, 2017: E-Commerce is Challenging Commercial Leasing.
Economic Overview:
STRONG LABOR MARKET LEADING TO HIGHER INTEREST? The strengthening jobs market has been core to the Federal Reserve's debates on raising interest rates. As the economy approaches full employment, experts believe wage growth will start increasing, causing inflation to accelerate above the central bank's 2% target, arguing for rates to be lifted further. With another 98,000 jobs added in March and the current unemployment at 4.5%, the trend is leading that way.

Commercial...
read more
---
December, 2016: Strong Jobs Creation Numbers but Weaker Spending? Cap Rates Jump, Reversing Long-Term Trend.
Economic Overview:
STRONG JOBS CREATION NUMBERS BUT WEAKER SPENDING? Private companies added a net 216,000 positions during the month, smashing the 165,000 estimate from economists surveyed by Reuters and marking the best month since June. The number was nearly double the 119,000 in October, which was revised lower from the originally reported 147,000. That's the good news, the challenge for property owners is that spending is down. U.S. consumer spending increased less than expected in...
read more
---
August, 2016: USA Consumers Gaining Confidence? High Optimism for Commercial Real Estate.
Economic Overview: 
USA CONSUMERS GAINING CONFIDENCE? The Consumer Confidence Index hit 101.1 in August, The Conference Board said. Economists expected consumer confidence to hit 97 in August, according to a Thomson Reuters consensus estimate. "Consumer confidence improved in August to its highest level in nearly a year, after a marginal decline in July," Lynn Franco, director of economic indicators at the trade group, said in a statement. The survey, a closely followed barometer of...
read more
---
April, 2016: Rate Hike Still Coming? And Commercial Market Review.
Economic Overview:
RATE HIKE STILL COMING?: Expectations for a summer rate hike fell into a sinkhole after the Labor Department reported that nonfarm payrolls grew by just 38,000 this month amounting to the worst monthly jobs growth in 5 years. A decline in the unemployment rate to 4.7% came only because 664,000 Americans fell out of the workforce. All of that happened amid a growing chorus of Fed members professing recently that a rate hike was appropriate and imminent. The economy,...
read more
---
December, 2015: Retailers Selling More and More is Good for Real Estate. USA Economy Has Recovered?
Economic Overview:
RETAILERS SELLING MORE AND MORE IS GOOD FOR REAL ESTATE. USA ECONOMY HAS RECOVERED? The federal government's fiscal crisis dominated economic news for much of the past couple of months. The 16-day shutdown of "nonessential" government services reflected severe political problems, but it ultimately had little impact on the wider economy. Despite a hit to government productivity—some agencies have lost a month to the shutdown and the need to address budget...
read more
---
August, 2015: US Economy Grew Faster Than Expected Between April & June.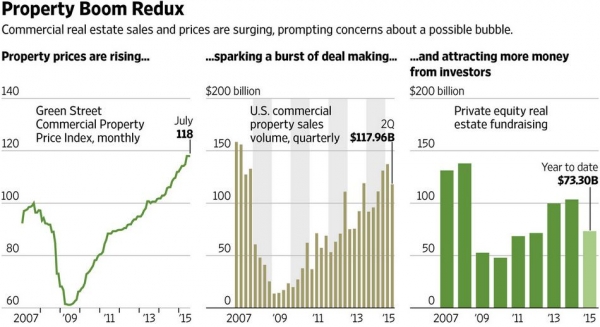 Economic Overview:
GOOD NEWS: US ECONOMY GREW FASTER THAN EXPECTED BETWEEN APRIL & JUNE. The economy grew 3.7% in the second quarter, a very big upward revision from the first official estimate, 2.3%, according to the Commerce Department's measure of GDP. The upward revision is welcome news as China's slowing economy is sparking volatility in stock markets, plunging currencies in emerging markets and potentially delaying a rate hike from the U.S. Federal Reserve. The good economic data...
read more
---
April, 2015: Interest Rates Have Gone Up, How Does That Affect Real Estate?
Economic Overview:
INTEREST RATES HAVE GONE UP, HOW DOES THAT AFFECT REAL ESTATE? According to the experts and countless other metrics of the US real estate market the expansionary upcycle of 2015 should continue in 2016. John Williams, San Francisco Fed President, stated at the Economic Forecast Conference hosted in January that interest rates will rise "gradually" throughout 2016, and that inflation should rise "gently" in line with the Fed's 2% target over the next several years. This...
read more
---
December, 2014: Small Loans Ticked Up Appreciably During 4th Quarter Of 2014.
Economic Overview:
SMALL LOANS TICKED UP APPRECIABLY DURING 4TH QUARTER OF 2014, according to Business Finance Capital of Los Angeles. "There has been a significant increase in SBA 504 loan activity during the 4th quarter of 2014," says Jacky Dilfer, executive director of BFC. "Though building inventory remains tight, interest rates are still low, and the 504 program offers great advantages to business owners, especially on larger buildings. The outlook for 2015 is positive, particularly...
read more
---
August, 2014: Commercial Properties Advance to 2007 Peak.
Commercial Overview: 
Commercial Properties Advance to 2007 Peak, with pricing for retail properties are now within 11.4% of it's previous high. The retail index rose 15% over the 12 - month period, the strongest annual gain among the four major property types, according to the CCRSI. Overall industrial and office property prices are within 14.4% and 21,2% of their previous highs, respectively, while pricing in the multifamily sector, is now 1% above it's previous peak. The retail market...
read more
---
Are you looking to sell or lease your retail property, strip center, shopping center, office building, commercial land, or apartment building?
Our complimentary commercial property evaluation combines real estate valuations and our leading market insights and expertise.
Thank you for your comments.
Your message has been sent.
Featured Commercial Property
Retail, 7,500 SF
211 S Maclay Ave, San Fernando , CA 91340
$1.07/SF