Latest Commercial Real Estate Market News in Los Angeles
Get the latest Los Angeles commercial property listings and market updates as soon as they become available.
August, 2013: Unemployment Rates Decrease.
Economic Overview:
Unemployment Rates Dereases to further help with the US employers added 148,000 jobs this month, which lowered unemployment to 7.2% and with further employment expected going into the holiday season, this is good news for retailers and commercial property owners.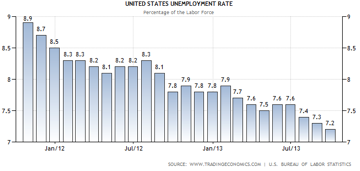 Commercial Overview:
COMMERCIAL REAL ESTATE IMPROVING, and according to bankers, demand for loans is increasing not just for refinancing but also for purchases and development. Fundamentals, economy and credit quality improvements have banks competing aggressively for loans. "We're seeing all cylinders hitting at this particular point," William Rogers, CEO - SunTrust, noted, "We're up 35% since the end of 2012, 10.5% this quarter. So I just think you're going to continue to see good growth in the commercial real estate.". "The quality of third quarter multifamily/commercial loan production remained strong, with loan-to-value ratios averaging approximately 42% at origination and debt coverage ratio is averaging approximately 1.76%", said Monte Redman, CEO of Astoria, "So, it's very strong credit.".
Are you looking to sell or lease your retail property, strip center, shopping center, office building, commercial land, or apartment building?
Our complimentary commercial property evaluation combines real estate valuations and our leading market insights and expertise.
Thank you for your comments.
Your message has been sent.
Featured Commercial Property
Retail, 7,500 SF
211 S Maclay Ave, San Fernando , CA 91340
$1.07/SF