Latest Commercial Real Estate Market News in Los Angeles
Get the latest Los Angeles commercial property listings and market updates as soon as they become available.
April, 2014: US GDP Contracts By 1%, But Is Ok?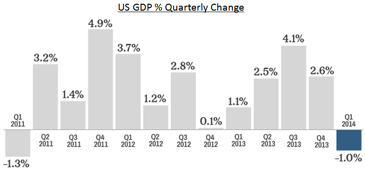 Economic Overview:
US GDP CONTRACTS BY 1%, BUT IS OK? It is the first downturn since 2011. Yet most economists see a bright future. The January to March period tends to be the slowest for growth. "This year, colder than usual weather stunted retail sales, international trade and the housing market." said Joseph Lavorgna, chief U.S. economist at Deutsche Bank. He predicts the economy will rev up, growing at more than a 4% pace in April through June. Stuart Hoffman, chief economist for PNC Bank also predicted, "The first quarter was disappointing, but rather than view that as an omen of a recession or the first of a down leg in the economy, I see the seeds of a big bounce back in spring", which is the good news for retailers and commercial property owners.
Commercial Overview:
LARGE BIG BOX RETAILERS VANISHING as national tenants are not looking for new locations as they were in the past. Many operators, such as Borders, have shut down, or in the case of Best Buy, are downsizing. Aside from your largest retailers such as Walmart and Target, all other concepts have faded or evolved. The 40,000-square-foot retailers are becoming 20,000SF, and 20,000SF tenants are becoming 10,000SF. Restaurants and discount stores, however are doing very well. Even with rents rising retailers such as 99 Cents Only Stores, Marshalls and Ross Dress for Less are expanding. Given their success, they remain a good option for vacant boxes. Healthcare is playing a big role in the absorption of vacant space. Many property owners are consulting with real estate brokers to plan for the evolving retail market.
Are you looking to sell or lease your retail property, strip center, shopping center, office building, commercial land, or apartment building?
Our complimentary commercial property evaluation combines real estate valuations and our leading market insights and expertise.
Thank you for your comments.
Your message has been sent.
Featured Commercial Property
Automotive, 4,156 SF
4320 W. Pico Blvd, Los Angeles, CA 90019
$1.80/SF